Last week I couldn't make up my mind where to go next with this week's post. Chronologically, Frank Lloyd Wright designed his buildings from the beginning of the 1900s to the 1960s- so he encompasses a lot of time. Bauhaus was just before World War II, with Modernism flowing through the war into the 1970s- and still influencing today.
BAUHAUS
It started as two art schools, under the direction of Walter Gropius, just after World War I. Courses covered applied arts: Carpentry, Weaving, Metal Works; and were taught be an artist/tradesman pair. Just like with artisan shops from back in the day, many of the students became faculty after their schooling was finished. Bauhaus's goal? "The creation of a complete environment 'by all and for all'." - page 519 Interior Design & Decoration, 6th Edition.
Quite a few icons of art and architecture came out of Bauhaus at this time: Walter Gropius, Marcel Breuer, Ludwig Mies van der Rohe, Wassily Kandinsky and Paul Klee to name a few.
Walter Gropius-
A man who could not draw, but was brilliant when it came to the technical side of architecture, designed the Dessau campus for Bauhaus in 1926. Clearly a modern structure, it was asymmetrical, full of glass walls spanning multiple stories and offered so many possibilities for growth.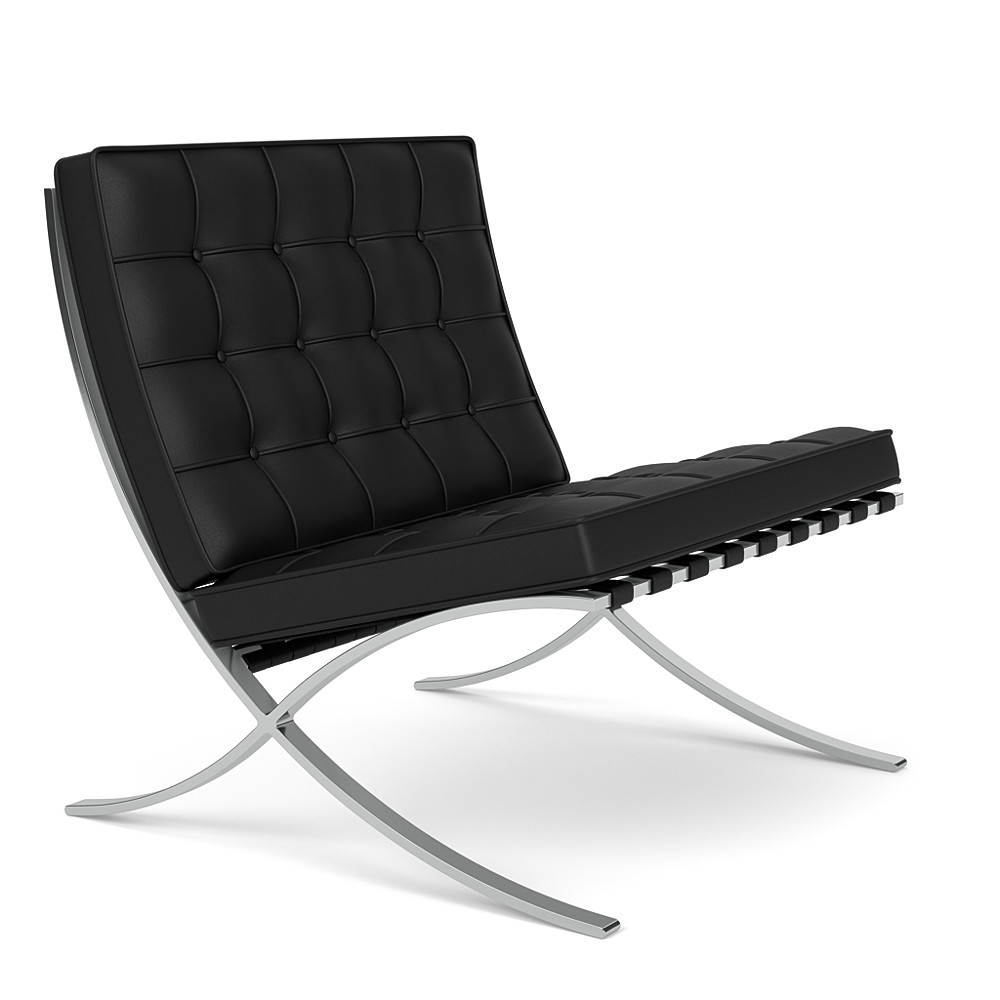 Barcelona Chair
Ludwig Mies van der Rohe-
I've known and remembered Mies for his Barcelona chair (pictured right), but he did much more than that one piece of furniture. It was was a featured in the German Pavilion, which Mies van der Rohe designed, at the international exhibition in just before the 1930s Barcelona. The Pavilion featured an open plan executed beautifully, which van der Rohe accredited to Frank Lloyd Wright, as well as floor-to-ceiling windows, and rich stone materials as the only ornaments. While Mies van der Rohe did attend a German school and was from Germany, just before WWII began in earnest, he came across the pond to Illinois and began to practice and teach architecture here.
Modernism
As a whole, Modernism was almost the opposite of Arts & Crafts. Yes, it had artists and craftsmen, but Modernism was about how a machine could benefit those artists and craftsmen - not the enjoyment of an artist or craftsman while working. Modernism was clearly about how new machines and new materials could be used to better the living environment. Techniques just starting out in the days of Arts & Crafts were now perfected and used to create lithe furniture from wood, metal, leather and even (the newest material) plastic. Modernism was shiny, with enameled wood and chromed-plated steel; there were few natural materials left in their raw state.